Connect Sverige · Event · Connect Talks: The Nordic Secret Sauce of Building Startups w/ Pär Hedberg (Founder, Sting)
Connect Talks: The Nordic Secret Sauce of Building Startups w/ Pär Hedberg (Founder, Sting)
In this edition of Connect Talks, Pär Hedberg and Naimul Abd deep dive into unveiling the Nordic secret sauce of building startups.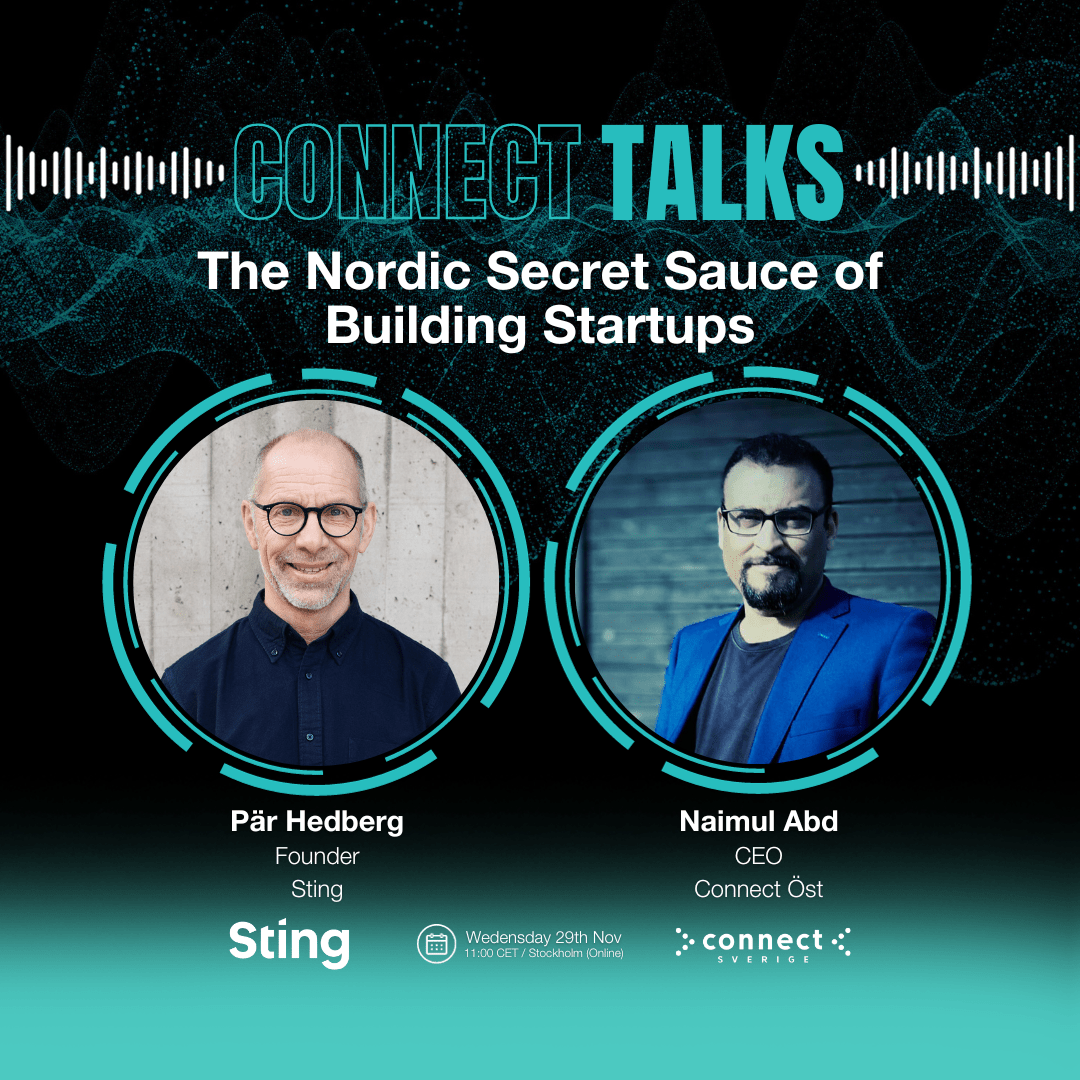 Welcome to our fireside chat with Nordic's leading startup ecosystems expert.
Ever wondered what makes Nordics unique?
Why this region leads the world on innovation, impact, and happiness?
In this fireside chat, we unlock the secret sauce of building startups in the Nordic region.
Tons of insights for founders, ecosystem builders, corporate, and investors working in the Nordics and beyond.
🎤 Distinguished Guest: Pär Hedberg
Pär Hedberg is the Founder of Sting, started 2002.
Sting is the leading tech-accelerator in Nordics and was in 2021 named the world best incubator/accelerator by Global Startup Awards.
Pär has supported startups since 1999 with the experience of backing 400+ startups.
He is the initiator and developer of several components of the Stockholm startup ecosystem.
He started Sting in 2002 and over the years has started and/or initiated Sting Business Angels, the VC fund Sting Capital, a recruitment organization for startups, the co-working spaces SUP46 and THINGS, Sweden's most active Business Angel investment company Propel Capital, the corporate-startup matchmaking organization Ignite Sweden.
Pär is also the initiator and co-founder of the VC fund Luminar Ventures.
💡 Talk Itinerary
What are the unique characteristics of the Nordic startup ecosystem that contribute to its success? What sets it apart from other global ecosystems?
How has the Nordic region fostered a culture of innovation and entrepreneurship, and what role do cultural factors play in shaping successful startups?
As a leader in the Nordic startup scene, what key trends and developments in the recent years that have significantly impacted the ecosystem?
The Nordic countries are known for their strong social systems. How does this social infrastructure contribute to the development and sustainability of startups, and what challenges does it present?
Collaboration is often highlighted as a key element in successful startup ecosystems. How do Nordic countries promote collaboration among startups, corporates, and other stakeholders?
What are some notable success stories from the Nordic startup ecosystem, and what lessons can other regions learn from these achievements?
In terms of government support and policies, how do Nordic countries foster an environment that encourages entrepreneurship and attracts investment?
Diversity and inclusion are increasingly recognized as crucial elements in successful ecosystems. How is the Nordic startup scene addressing diversity, and what initiatives have been successful in promoting inclusivity?
What has been Pär's most rewarding or fulfilling experience in his ecosystem building journey?
Advice for startup founders, ecosystem builders, and investors looking to thrive in the Nordic startup landscape.
🎙️ Moderated by Naimul Abd
Naimul Abd is the CEO of Connect Öst. He is on a mission to connect Entrepreneurs with Capital, Competence, and Connections. He is a serial ecosystem builder and the Nordics lead for global ecosystems including Founder Institute, Nutty Ventures, Startup Grind, and Founders Live.
🗓️ Upcoming Talks
6th December: Johan Attby and Alex Bakir, General Partners | Norrsken Accelerator
13th December: Sofia Breitholtz, CEO | Reach for Change
20th December: Thomas Bigagli | Partner Plug and Play Ventures
🌐 About Connect Talks
Connect Talks is a catalyst for ideas, inspiration, and impact. Hosted by Connect Öst, we bring top investors, entrepreneurs, and thought leaders to facilitate a dynamic exchange of experiences and perspectives with the Connect universe and the broader startup and tech community worldwide.
—
This is a digital event. Zoom link will be sent to those who register for the event.
For questions, speaking opportunities, partnerships, or learning more about Connect Öst, reach out to Naimul Abd.
Våra partners